Wednesday June 15th, 7 AM. It's a beautiful day, the sky is blue. We're at Level 11, one of the highest buildings in Amsterdam, near the central station. The view is extraordinary, we can see the entire city from up here. Inside the venue breakfast is being prepared and coffee is almost ready, it smells delicious. Three large screens that display the theme of today's sessions: "Long Live Retail".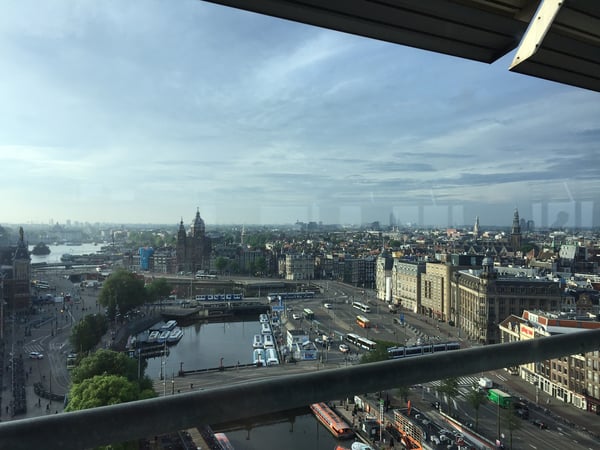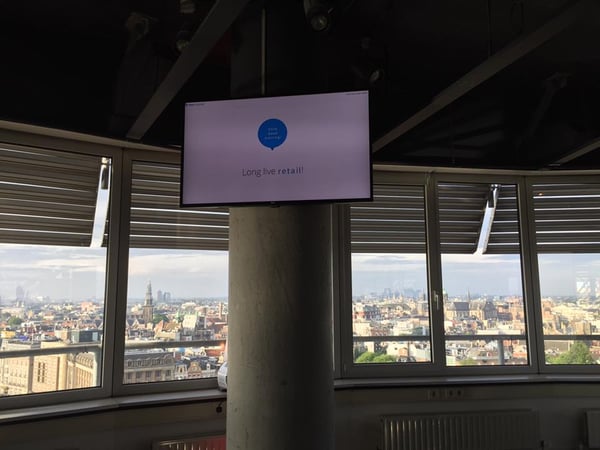 Long live Retail
Bram De Vos, our Customer Success Officer, kicked off the Breakfast session.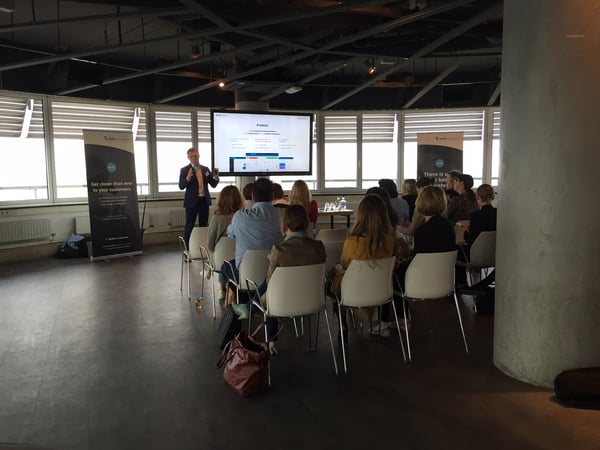 He showed some examples of what we've all seen in the media: retail is hurting, retail is a dying breed, retail is being eaten by e-commerce.
But truth is, retail isn't dying! E-commerce isn't going to kill retail. We just need to keep giving our customers the right value and offer them extraordinary experiences, be it offline or online. Retail and services need to transform their business models for the benefit of the customer, to become the success stories of the future.
Engagement with Loyalty Cards
Wies Mensink from Loyalty Rockstars brought us a case from Albert Heijn and how they created a loyalty program with their Bonus Card. She started off with this beautiful insight:
"A loyalty program isn't the goal, but a way to improve customer experience."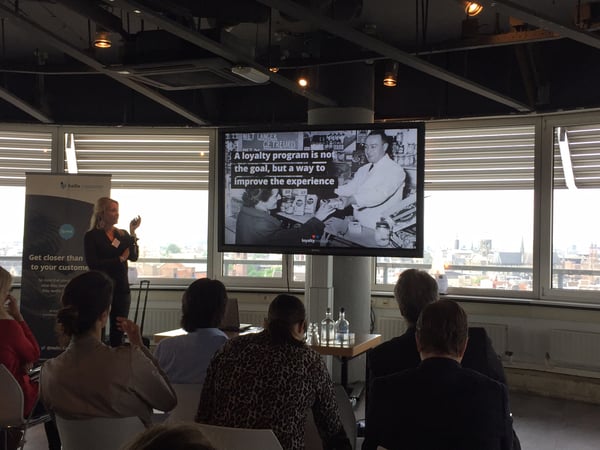 Customer engagement in retail is crucial if you want to win. And actually it's not even about loyalty. Loyalty sounds a bit distant, generic, passive and even one-dimensional. It's more about new relationships: warmth & closeness, recognition & relevance, active and multidimensional.
Most companies have a fragmented view of their customers. That's why their communication feels very impersonal and maybe even forced. In order to really get to know your customers, you'll need data. In that way you can filter out their personal preferences. And that creates real value. This is a continuous process.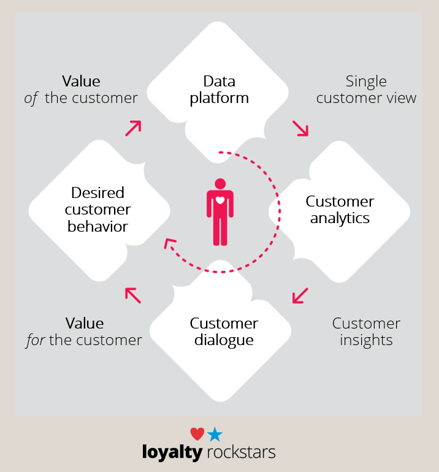 Using all this data allows you to offer targeted promotions for your customers. The way you communicate about a product is different for everyone.
To illustrate this point, Wies told us that Albert Heijn sends no less than 1.3 billion emails to its customers each year. And not 1 of those 1.3 billion emails is identical.
Take a promotional offer for muesli for example. Imagine two different customers. One is just interested in discounts and healthy food that's easy to prepare. The second customer also wants to eat healthy food, but wants to follow the latest food trends as well, and wants to get inspired.
The first customer will get a promotion saying 'easy and fast', he'll get a discount and there'll be an extra call to action saying Ready in 2 minutes. The other customer will get a promotion for the same product saying This is the new healthy trend and there'll be an extra call to action saying discover recipes here. Both promotions are completely different and are totally personalized on your customers needs.
Make the world a more customer

friendly

place
Stefan Kolle from Future Lab brought us a story about how companies can become customer centric. Lots of companies already take a lot of actions to become more customer-centric.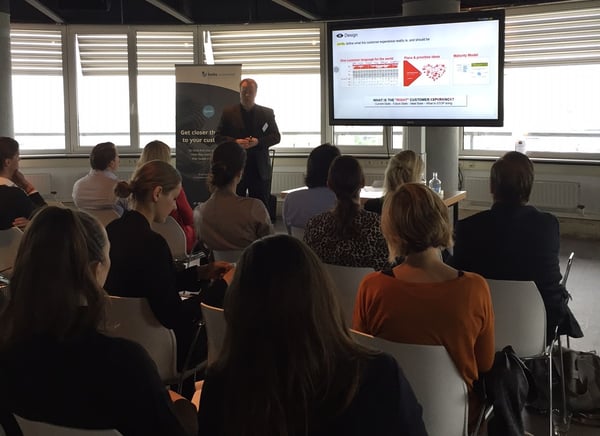 These are some steps that can be taken:
Design




They jointly define what the customer experience reality is, and should be. => What is the right customer experience? What's the current and ideal state, what do we need to STOP doing?
Operationalize




They make the plan operationally relevant for every affected role and department. => What do people need to deliver the right customer experience? The right Processes,

I

nformation, KPI's and Resources.

Engage




They back an emotional call to action

up

with tools, standards, champions and leadership. Companies need to encourage people to go beyond the manual. Great customer experience starts with a great team.

Improve




They measure progress and take actions to enhance, innovate and sustain the

programme

. You can never accept the status quo.
It is by consciously and thoroughly implementing this elementary framework that companies such as Toyota and Weber have made the move towards more customer centricity. For Future Lab, it's all about the execution, and Stefan showed us some great footage from the companies that they work for.
Essentially, it's about truly practicing what you preach, and that means that the actual top of the organization has to get a feel of what customers experience. Even if that means for the CEO to hitchhike a ride in the car of a surprised driver, with no other rationale than to find out what the driver thinks about the car.
NPS as driving methodology toward customer centricity
Rosaria Cirillo Louwman from Wow Now is a real authority and certified NPS practitioner.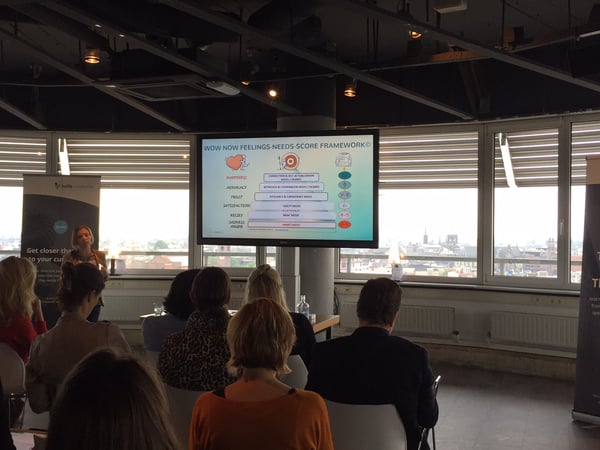 She started her session with a nice little experiment. "In which world would I rather live in?"
She asked the participants to close their eyes for 3 minutes while she described two different situations. She wanted us to imagine how it would make us feel when we're treated badly as a customer and, then, how we'd feel if we were treated right.
As we all had our eyes closed, the effect of what we heard was expressed in our body language. Our faces and bodies became stern and rigid when we listened to the bad customer experience that Rosaria was dishing up. Then, as we were listening to the pleasant experience, we started to relax, and a smile spread over our faces.
The experiment showed how important Customer Experience really is. It's the new competitive advantage. That's why it's so important to measure and improve with a well set-up NPS program and other Voice of the Customer listening methods. That's the only way to find out how your customers are feeling. That's a journey, not a project. Companies need to constantly improve on that.
Another important argument to invest in a customer centric approach:
H

appy customers are the post profitable ones

,

Happy employees are the most productive ones.
And together they drive healthy growth even in time of a crisis.
Customer feedback as crucial part of transformation
Bram De Vos closed the breakfast session with a real life case of a Voice of the Customer program in retail and the immediate effects it had had on revenue. And his point was that it's not just about satisfying your customers. The customer journey doesn't end after a purchase. That's when the ambassador program starts, if your customer is happy. And if your customer isn't, retailers can still save the day if they contact that customer quickly.
However, what you need to have in place to automate as much as you can, is the right technology. Hello Customer is that software. It takes away all of the cumbersome work, such as asking for feedback and analyzing all of it.
So that what you and your staff can focus on is the actual delighting of your customers. Because in retail, if it wants to thrive, what is needed, is the authentic human touch that customers are increasingly yearning for in these digital times.
Technology frees up your human resources to offer more emotionally charged experiences.
After that last session there was plenty of time to talk with a cup of coffee.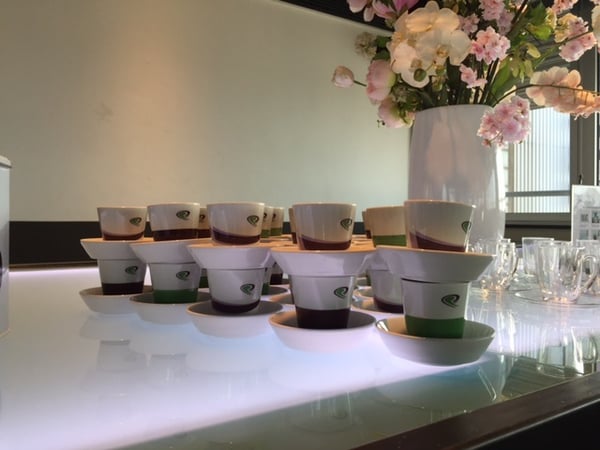 Curious about what Hello Customer could mean for you? We're happy to help you out.