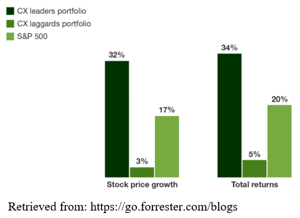 Although Customer Experience is a revenue issue, it is often difficult to demonstrate the direct link between CX and revenue growth or business success. Nonetheless, Forrester research has shown that customer experience leads to turnover increase. His research has confirmed that CX leaders crush CX laggards across several evaluated industries on both stock price growth and total returns.
A portfolio of CX laggards from October 3th, 2016 to October 2nd, 2017 confirmed that statement and showed that the price of top brands in the CX Index grew 32%, compared to 3% for lagging brands. Moreover, the portfolio of CX leaders outperformed the S&P 500 Index, which returned 20%.
Superior Customer Experience drives substantial revenue growth for investments firms. But what is the Return On Investment? To determine ROI, a simple calculation can be made:
ROI = (Benefit – Cost) / Cost.
However there is one thing to bear in mind: higher-level CX drives superior significant growth in industries, but only when customers are free to switch business and when competitors distinguish their customer experience from others.