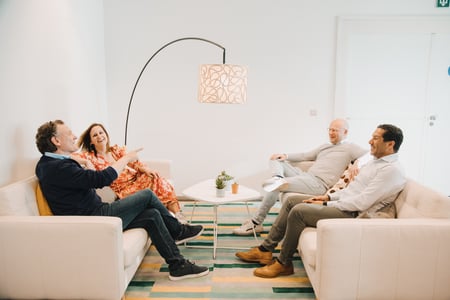 Hello Candidate
Good employee experience should already be present before new arrivals even begin working for your company. How you brand yourself as an employer must be in line with your corporate culture as well as the needs of the candidate. For that reason, Hello Customer introduced the tagline 'Hello Candidate' with the goal of helping candidates become familiar with our company, one step at a time. The structure of our career page is tailored entirely to potential candidates to help answer possible questions and help meet their expectations. In other words, we don't simply list our job vacancies, but we also: offer more insight into our different teams and our corporate culture and values, share office pictures and publish testimonials from our very own employees. All in all, an information treasure on the ins and outs of Hello Customer! As a result, people who spontaneously connect with our company will be proactively informed of all the new opportunities.
Once someone starts applying for a job at Hello Customer, we attach great importance to a swift application process and transparent communication. At the same time, we are mindful of the 'War for talent', which is also why it shouldn't be used as an excuse. Our goal is simple: we strive for good candidate experience on a daily basis.
Onboarding: an underestimated cornerstone
Naturally, Hello Customer provides an extensive onboarding process for new employees. Yet that doesn't mean that you should turn a blind eye to new arrivals after they signed. After all, there may be several months between the signing and the first working day. Therefore, we stay in close contact with our new employees during this period and even invite them to team events. This way, we want to encourage a progressive integration period.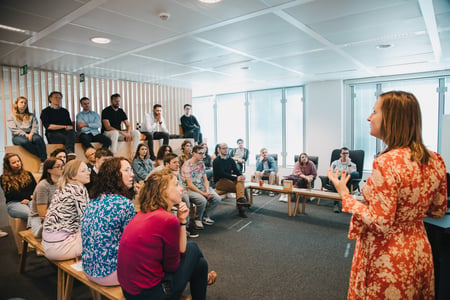 The first week at your new job can be very overwhelming. To help streamline this, we implemented an internal information platform where employees can watch videos about our mission and vision, consult information about our product and customers, read the organizational chart and associated job descriptions, and much more. After all, in addition to personal meetups with colleagues and teams, an easily accessible source of information has emerged as a key factor to enabling faster onboarding.
The aspects of Employee Experience
We've already made clear that employee experience covers more than just employee satisfaction. It all starts with proper employer branding, solid recruitment and onboarding, transparent internal communication and creating development opportunities. Finally, feedback is another very important aspect (just like with customer experience). At Hello Customer, we therefore strongly focus on growth talks, lunch & learn sessions, surveys, people updates, all-hands meetings, and many other initiatives.
Striving to create a psychologically safe working environment and offering our employees the necessary support, tools and coaching to help them progress in their careers and in our organization, is essential to us as employer.
How do you measure Employee Experience?
In addition to customer experience, the Hello Customer platform enables companies to measure employee experience. While one of our customers uses our platform to gather feedback on their onboarding program, the other surveys the extent to which their own employees would recommend others to come and work for them. Similar to measuring candidate experience, it is crucial that you have a sufficient number of responses when measuring employee experience in order to get significant results. In this case, the conventional 'NPS' turns into 'eNPS'. To this end, our tool can divide the different aspects of 'employee experience' to help calculate the eNPS.
As we advise our own customers to take actions based on the analyses from their customer feedback, we also want to cherish this mindset internally. After all, feedback is a central pillar in our organization. And as an HR department, this employee and candidate feedback is the starting point to continue working on the best possible employee experience to help further shape our organization.