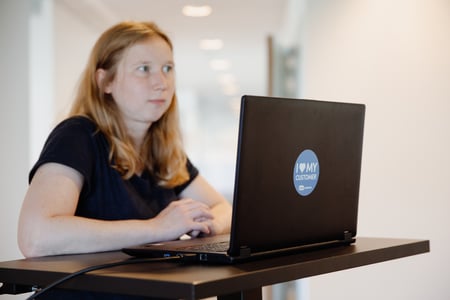 Tine went tech
Tine and Tim joined the Belgian headquarters of Hello Customer in Ghent in 2019. In this fairly young and fast-growing tech company, they are easily counted among the ancients. Tine: "A lot has changed since I started as a customer data researcher. The company has changed, and so have I. My current job is much more technical. Honestly, I never thought I would be able to go that technical. But gradually, I got into it and the management team encouraged me in that direction. So today I'm the product owner of one of the development teams, and sprint planner for the AI-team that is working on the customer feedback text analyses. In fact, I bring the roadmap made by our product manager to life."
ISAAC became smarter
Tim: "Same story here. In the past few years, I grew with the company and the company grew with me. When I started in April 2019, there were only 4 developers. Today, there are 12. I am part of the data capturing team, which means we process all incoming data. And the amount today is a multiple of what we processed back in 2019."
Tine: "You said it, Tim: we've come a long way. Our self-made AI-software ISAAC has analysed more than 16 million incoming text messages with customer feedback. And the more data we analyse, the better our AI gets. The quality of our text analysis is really what distinguishes us from our competitors. Our customers need accurate data to make smart decisions based on customer feedback. With our latest version of ISAAC, we've really gone above and beyond to deliver the most reliable feedback platform out there. We're not just far better than the free and cheaper players such as Google Forms, we also outperform the much more expensive players in the market. With our software, our customers ask their customers to motivate their quantitative answers with qualitative feedback. Why did you give this score on the friendliness of our staff? Why did you rate our service you get on the phone with that particular score?" We're taking feedback analysis to a whole new level.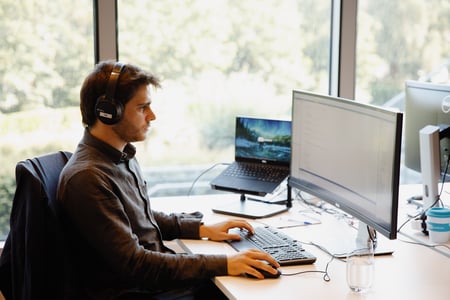 Camaraderie
Being able to offer an excellent product or service is one thing, but what are Hello Customer's strengths as an employer?
Tim: "We learn an awful lot and we work together well. The atmosphere in the development team is just great. I have already forged several friendships at work. And we get to work with the latest hardware and software, which for me as a developer is quite essential."
Tine: "Atmosphere and fine colleagues: those really make the difference for me as well. And the camaraderie. We don't enjoy our lunch together in the office because we have to, but because we want to. And we regularly go out for a drink with the colleagues after work. The nicest terraces in Ghent are only a five-minute walk away from the office. Tim nods: "That strong bond among colleagues is something I didn't expect when I first started here."
Sociable colleagues
Tine: "Our developers are anything but nerdy, shy people. They don't fit into that cliché picture at all. They are the most sociable people you can imagine. If someone encounters a problem, the others rush to the rescue.
Tim: "We pay a lot of attention to social skills in our recruitment process. To our management, finding the cultural fit is extremely important. I remember that from my own job interview back in 2019."
Tine: "The culture at Hello Customer is also very open and flat – there's little hierarchy. If Tim has a question for Leslie (Cottenjé, the CEO), he simply asks her. The management is easily accessible. To me, that's a great comfort."
Work/life-balance
Fast-growing companies tend to ask their staff to go the extra mile quite frequently, which often results in long working days. But according to Tine and Tim, work-life balance at Hello Customer is more than okay.
Tim: "Most of the days, my working hours are not that different from the classic nine-to-five. Of course, during the occasional design sprint we'll sometimes work overtime."
Tine: "We are certainly not expected to work overtime every day, but if something has to be finished, we finish it."