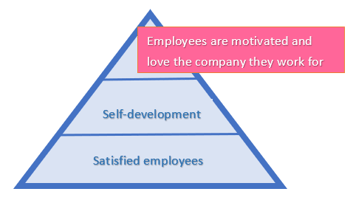 Employees are engaged when they feel passionate about their jobs. They're committed to the organization and they put discretionary effort into their work. There are several positive outcomes: an improvement of performance, more proactive and innovative behaviour, and financial profit are only some of the results. Highly engaged employees lead to an above-average productivity of +38%.
Have you ever had a bad experience with unfriendly employees? Have you ever said to yourself "I'm never coming to this shop again"?
Well, I have. A banal example: recently, I bought my sandwich at my local bakery, where I had been buying my sandwiches for a long time. There was a new co-worker and I asked him, as usual, to take away some ingredients from my sandwich, as I have a food intolerance. Reluctantly and after he sighed a few times, he removed the ingredients. Actually, at that particular moment I asked myself: "Am I doing something weird?", "Is that so terrible?". Consequently, I decided not to return (although I only had to buy one more sandwich before obtaining a free one). I was offended and the bakery lost a loyal client.
But the opposite is also possible of course: feeling relieved after visiting a shop, receiving a compliment, really feeling helped or just being helped by a friendly staff member with a big smile.