I moved countries and had to start over in a Dutch-speaking company. I had no experience with Sales Development, so I had to learn everything from scratch. But that's what's so interesting about working at Hello Customer, you get to learn on the job and everyone supports each other. Leslie, our CEO, joins me for demos so I can learn from her. So, without a lot of experience in SDR, I managed to do the job because of the supportive atmosphere.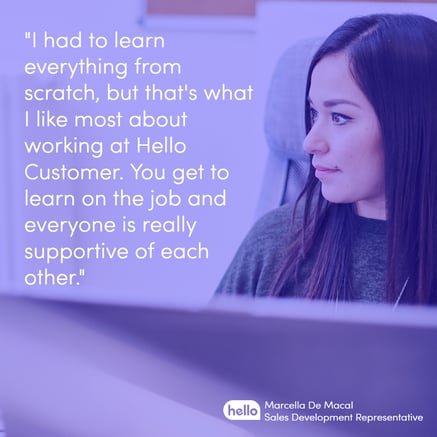 I'm still learning and improving my skills every day, whether it comes to sending out quotes to prospects, proposals for data pilots or doing 'cold calls'. On top of that we want to conquer the Spanish market, so we have to build up sales there as well. We've never done that before and we're targeting bigger companies, so it's a learning process. By doing it together, the sales team gets to learn a lot from each other.
I'm also developing other skills by supporting the marketing team with Spanish translations for the website, e-books and case studies, communicating with event organisers in Spain. So even though I'm working in a Belgian company, being a native Spanish speaker is an asset here. At other companies this was often seen as an obstacle.