Our feedback platform is entirely powered by A.I. that analyzes customer feedback with an (allow us to say so) impressive accuracy of 95%. It then dispatches the right feedback to the right teams. This way it delivers actionable insights that helps companies prioritize issues and it helps them improve customer experience, since they know what their customer's priorities are.
These insights can also help you in making future business decisions. We had a look at bank data from one of our customers, a large player in banking in Belgium. This data was gathered after a customer visited one of their branches. Our A.I. then analyzed all feedback and derived different categories and subcategories. It can also tell you how customers feel when speaking about this particular topic (a.k.a. sentiment).
So when we look at customer feedback about the bank's branches, we see that:
Customers aren't satisfied with the opening hours
In the subcategory 'machines' we noticed a lot of negative feedback about not being able to deposit money at the bank.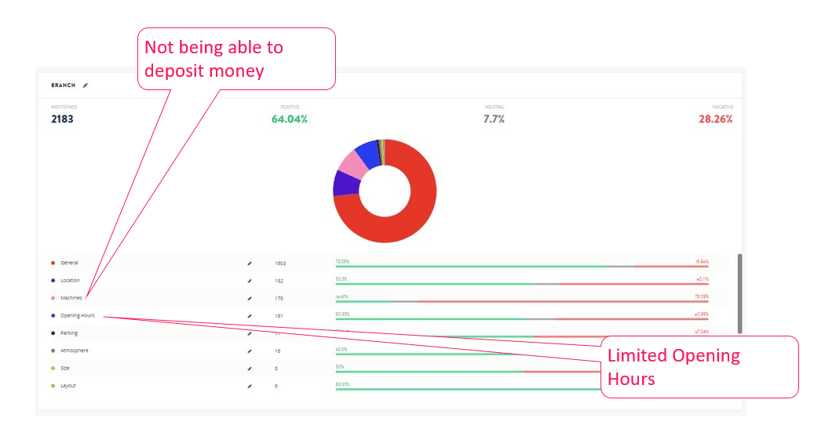 So maybe this could be the seed of the future bank office? More offices with better opening hours, suited to people who work past current openings hours, with the possibility to deposit money. Who knows! It might be worth the try.
In short...
The key thing to take away here is this: A.I. is capable to help you solve problems, when the accuracy is up-to-standard, of course. It is useful to provide insights into what your customers expect of you, and not what a company thinks is best for them. It doesn't have to replace people, instead it can help them understand better how they can impact and improve customer experience.