Let's say you're already satisfied with the feedback you're getting from the tip of your iceberg (impossible!). You're getting complaints and bad feedback. You panic: "well if all these people are complaining about Issue X it must be true! It must be a giant problem that requires a lot of time and resources!"
STOP, hold your horses! Of course it's necessary to address customer issues and to investigate whether it's a serious problem or not. But don't forget you're only listening to a small part of your customer base. This creates a distorted view of what your priorities should be, leading you to invest a lot of resources to solve an issue that wasn't even an important action point to begin with. And in the long run, that's just money down the drain.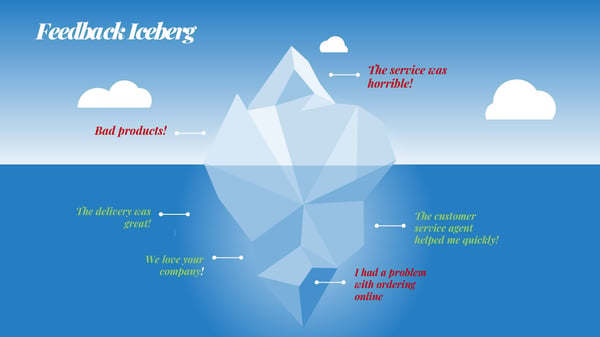 However, if you decide to listen proactively you'll receive a lot more feedback. The problem that tiny part of your customers addressed? Well, the other 80% of your customers might not even find it an issue at all.
On top of that (haha, see what we did there?), the majority of that feedback will be positive. This is not something we've come up with ourselves. Our own customers tell us that they don't just like the fact they now get tons more feedback. They are happy to hear their customers are happy. It engages them to do their best every single day because they know their work matters.
Bear in mind, you'll still receive negative feedback when you listen to the bottom of the iceberg too. But this is actually a good thing. Because that fraction of the largest part of your iceberg (which in perspective still amounts to a fairly big number of customers) is a group of unsatisfied customers who you'd never find out about, a silent minority. This silent minority is a high risk group. They could churn and you wouldn't know they did, and more importantly: you don't know why.