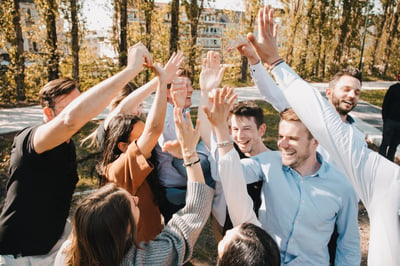 Let's grow together
'Culture eats strategy for breakfast' is not a hollow concept for the employees at Hello Customer.
"We stand or fall with our company culture. We recruit based on cultural fit and only secondarily based on skills. Internally, we organize various activities to bring our company culture to life. For example, we organize monthly Lunch & Learn sessions where we discuss topics that are in line with our values, such as a training on open feedback or a workshop on resilience, we select an ambassador every quarter, we have an active FUN team of employees who are eager to get involved and we have replaced our classic performance reviews with 'growth talks' where the focus lays on growth and ambition of every person."
Hashtag
"We have indeed introduced our one and only #GROWTogether hashtag within our organization. It perfectly reflects what we stand for and what we are committed to."
G: Getting things done
R: Resilience
O: Open Communication
W: Work with a smile
T: Together
"Every quarter we put an employee in the picture who nicely embodies these #GROWTogether values: our ambassadors. And in our office, we have integrated several nods to our values: our ambassador wall, stimulating customer quotes, fun one-liners in our restrooms."
International and diverse
That Hello Customer has international plans is no secret. But how does that manifest itself concretely?
"We have grown enormously in recent years. Meanwhile, we have become an ambitious scale-up company with almost 50 employees. We have several offices: our headquarters in Ghent and hubs in Paris and Amsterdam. Currently, one of our people is even in the US to put Hello Customer on the map there. So, we are very strongly committed to this internationalization and diversification."
"That manifests itself in the different nationalities we have on board. We have employees from Egypt, Estonia, El Salvador, Russia and of course France and the Netherlands. We find this combination of languages and nationalities to be a tremendous enrichment."
"In addition, we are also very proud of our gender balance: almost half of our employees are women! The average number of women working in the ICT sector is around 25%, so we are well above that. The fact that we have a female CEO and many women in leadership roles shows that we can easily set an example for other organizations."
Jobs
The Ghent scale-up company continues to grow, and you can grow with them.
"The great thing about a scale-up context is that you really can take ownership, and you can shape your own job. It is our job as HR to encourage and support our people in this. We look at your strengths and growth potential and not at 'filling in a chair'. At Hello Customer you get a lot of responsibility to shape your own career. You must love dynamics and change because things move fast here. It is cliché, but the comparison with a roller coaster really holds water (laughs).
By the way, we like to move fast ourselves, so you can expect a reply from us to an application within a week."
Want to join our roller coaster? Check out our jobsite and apply today!