Customer Experience transformation puts your company on the road to (financial) success, but why?
Customer Experience: why should we invest in it? And what could be the return of that investment?
Enthusiasm and satisfaction can profit a business, but customer engagement can more importantly increase sales to existing customers, improving overall business revenue. To obtain those benefits, CX transformation leaders need to invest in training, technology, and professional services.
A study of the Journal of the Academy of Marketing Science showed three elements: firstly, managers overestimate the extent to which customers are satisfied and loyal, which leads to further declines in customer satisfaction. Secondly, managers underestimate the extent to which customer satisfaction drives complaints and loyalty by almost 40%. Thirdly, when manager perceptions are misaligned with customer perceptions, customer satisfaction suffers. Customer Experience is often considered as derived from the marketing concept, however, it stresses more the individual customer intelligence and its nature of dialogical interaction.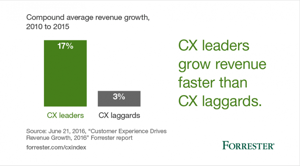 Research has shown that when executives chase fads, customers and investors are bound to have lower satisfaction and/or financial performance. Consequently, losing from competitors becomes a firm fact. Enterprises need to jog their memory and see that their main objective is to satisfy customers and to be of value for investors as CX is said to predict sales, margins, cash flow, market share and stock returns. According to Bruce Temkin better CX really leads to more purchases.
A recent study by Rosetta, interviewing 4,800 US consumers on their customer experience with market-leading brands, has shown that these consumers buy services or products 90% more frequently and spend 60% more per purchase. Moreover, these customers even said they were five times more likely to only buy services from that particular brand in the future. Furthermore, highly engaged customers are willing to turn a blind eye to functional and occasional shortcomings. They stay committed, even when a negative experience occurs or when prices increase.
We all know about the phenomenon "Apple". They distinguish themselves from other companies with their excellent Customer Experience and Customer Centricity. Apple mainly focuses on building relationships to sell more products. The company emphasises the value of its people and not its products. Their secret is to focus on Customer Emotions and to look at the psychological aspects of Customer Experience, both consciously (rational part: speed of delivery, how quickly a phone call is answered, etc.) and subconsciously. Both of these can evoke emotions. And we all know that a happy customer is a customer who will buy things. However, some companies are not aware of subconscious and emotional experiences. The lack of attention to these areas drives complaints and costs because of the poor experience. Additionally, it can negatively affect customer retention and customer loyalty.
These elements lead to engaged customers, who are of great value for a brand. More specifically, these consumers will deliver three times the value to the brand in only one year. They will spend more at present and in the future. To illustrate this we would like to mention a study by Bansal who discussed athletic clothing shoppers. Her results showed that highly engaged athletic clothing customers compared to non-engaged customers spend 97% more on average and purchase 94% more frequently. Furthermore, these trends are present in different markets, from financial services to fast food and so on.
Many companies measure customer satisfaction on the basis of the provided Customer Experience. Mid-size companies across industries are increasingly focused on Customer Experience to distinguish themselves from competitors and to build customer loyalty. In other words, Customer Experience is a revenue issue that can influence the financial health of the company. But how can we stimulate customer engagement?
Growing awareness. Your company should make customers aware of its different solutions among their customer base by supporting conversations and interactions between customers. The solutions may be different services, updates, and other offers.
Collect data. By visiting your website, customers leave interesting data about their interests. These data can be used to predict buying preferences and pain points to in that way provide your customers with the right product at the right time.
Use digital media. Bain & Companyshowed that engaged customers spend between 20% and 40% more than non-engaged customers. You can engage your customers through social media, blogs, whitepapers, and so on.
Interact with your customers. The more you interact with customers, the more trust you build. How? Through feedback, support or Q&As. Trust leads to purchase intention.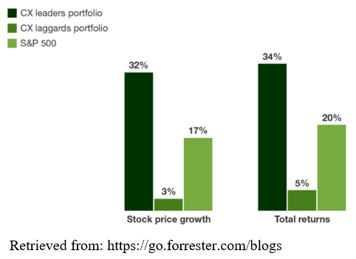 Although Customer Experience is a revenue issue, it is often difficult to demonstrate the direct link between CX and revenue growth or business success. Nonetheless, Forrester research has shown that customer experience leads to turnover increase. His research has confirmed that CX leaders crush CX laggards across several evaluated industries on both stock price growth and total returns. A portfolio of CX laggards from October 3th, 2016 to October 2nd, 2017 confirmed that statement and showed that the price of top brands in the CX Index grew 32%, compared to 3% for lagging brands. Moreover, the portfolio of CX leaders outperformed the S&P 500 Index, which returned 20%.
Superior Customer Experience drives substantial revenue growth for investments firms. But what is the Return On Investment? To determine ROI, a simple calculation can be made:
ROI = (Benefit – Cost) / Cost.
However there is one thing to bear in mind: higher-level CX drives superior significant growth in industries, but only when customers are free to switch business and when competitors distinguish their customer experience from others.
In conclusion: why should you invest in CX?
CX is said to predict sales, margins, cash flow, market share and stock returns,
CX leads to more purchases and turnover increase,
Companies use CX to distinguish themselves from competitors and to build customer loyalty,
CX can influence the financial health of the company.
And more importantly: why should you invest in Hello Customer?
Hello Customer provides your company with technology to truly listen to your customers and to create a customer-centred culture.
Hello customer's technology helps your company to process enormous amounts of open qualitative feedback in order to get your organization moving.
Hello Customer helps your company to understand (dis)satisfaction across your customer base and customer journey in order to set the right actions and priorities in your investments and strategic decisions.
ISAAC categorises feedback into business aspects key to your industry. Because of this focus, it can do this with an unparalleled accuracy of up to 95%. This makes ISAAC truly unique in the text analytics and Natural Language Processing space.
Thank you for reading this blog. Should you have any further questions, don't hesitate and ask us!