You might think: if everything around us is increasingly becoming digital, doesn't that mean that human interaction is losing importance?

Well, on the contrary. Human interaction is now more important than ever. With online shops being available 24/7, people expect the same service at physical companies. One bad service or experience can make your customers publish a complaint on social media, publicly for everyone there to see.

This proves that now isn't the time to have underperforming or disinterested staff. Your people should be motivated to deliver excellent customer service. Remember: customer service is a human thing. It starts with your people.

Your employees are the backbone of your company

There is no doubt that employees are the backbone of any successful loyalty initiative. Your people are the ones sharing, explaining, delivering and defending a brand's values. They are the brand's personification. If they're not engaged or if their behavior collides with the values you've defined, the likelihood of a successful customer interaction decreases.

And that behavior is everywhere: it's not just when your employees are serving customers in-store or at the check-out, but also when answering an email, fulfilling an order or processing an exchange.

It's important to spend time to ensure that employees are trained, empowered and happy at all times. And this isn't just a time event, it's a journey.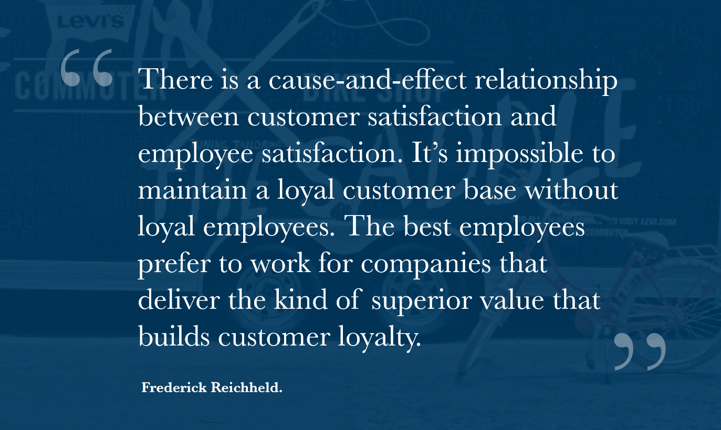 The impact of employee engagement on customer experience

Numerous empirical studies have shown a strong positive relationship between employee satisfaction and customer satisfaction. Some studies go back to 1985 (Schneider & Bouwen) and most of them show that positive changes in employee attitudes lead to positive changes in customer satisfaction. There's even more: employee engagement has a direct effect on business outcomes.

The Workplace Research Foundation showed that increasing employee investments by 10% can increase profits by $ 2,400 per employee, per year. And highly engaged employees are 38% more likely to have above-average productivity.

In 1997 Heskett described the relationship between employee and customer satisfaction with an analogy of the "satisfaction mirror", which conveys the idea that business success results from employee satisfaction being reflected in terms of customer satisfaction.

The behavior and attitude of your employees are two of the most significant drives of customer satisfaction. When employees are engaged, they not only spread their enthusiasm to customers, but they're also more dedicated to providing them the best service.